The Digital Services team provides an extensive portfolio of digital products and services aimed at presenting you, as a Messe Frankfurt exhibitor, in the best possible light, and we do so without waste coverage! We make your presentations available around the clock on the event website as well as the B2B portal productpilot.com. We furthermore offer you a wide range of valuable on-top services relating to every aspect of your online event presence, or even individual video production services.
Discover Messe Frankfurt's online portfolio and use maximized services to your advantage.
Online Banner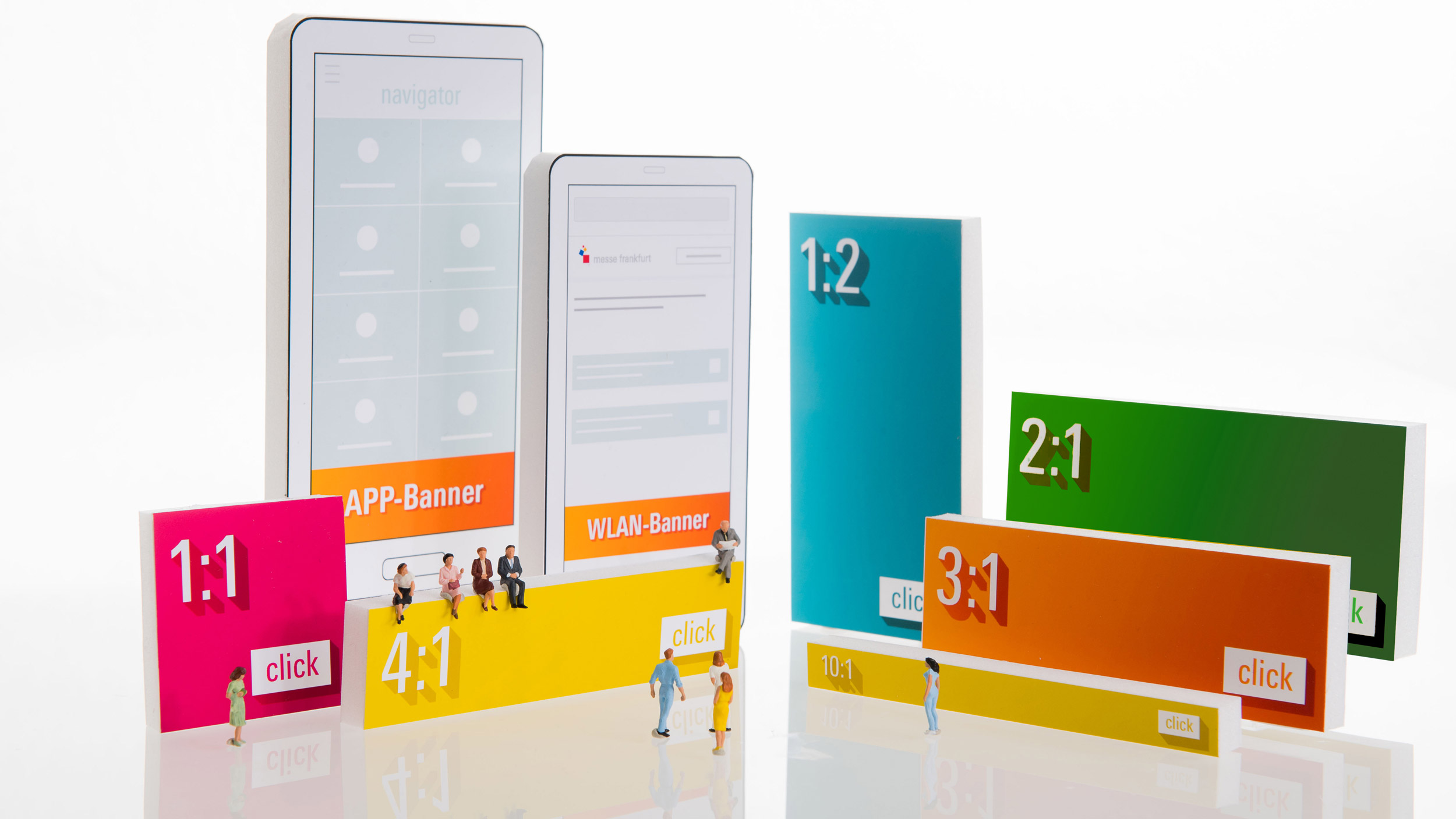 Pinpoint your online presence
Place yourself at the centre of attention with accuracy. Online banners by Messe Frankfurt on the websites of trade fairs offer you around the clock direct contact with your target audience – before, during and after the fair.
App banners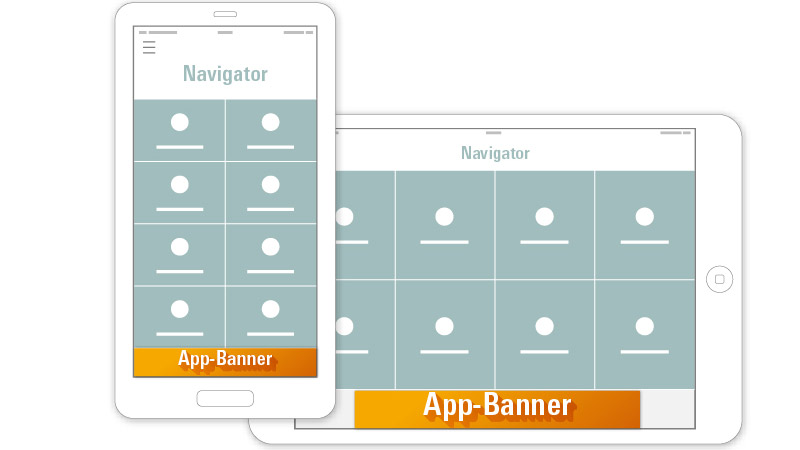 Smart advertising in the exhibition app
With our exhibition app, your banner advertising attracts attention at highly frequented spots and as a constant companion for your target group, is always in sight and that beyond exhibition hours!
Media Package Add-Ons
Additional online services for your media package: Maximum presence before, during and after the trade fairs.
Distinguish your company from the competition by booking Add-Ons for the media package you received automatically when you registered for an event.
We will gladly provide you with the prices for the products on request.
Location-Based Push Notifications / Beacons

Wirelessly connect with your visitors
iBeacon is a feature of the event navigator app which allows you to make direct contact with app users. Send your videos or messages for example brochures, flyers, etc. with content download to your visitors and customers
How it works
Using the event navigator app and iBeacon, you can make your digital data directly available to trade fair visitors. The iBeacon device sends a push notification to the visitor's smartphone when it is near the stand. The user is made aware of your stand with just one click and can access the brochures, video clips or product descriptions that you provide us.
Requirements
Download the current version of the event navigator app from the Apple Store or Google Play
Enable Bluetooth on your smartphone and agree to the terms
Enable location services and agree to the terms
Advantageous Online-Package
Benefit from one low package price for multiple useful add-ons.
Your video during the trade fair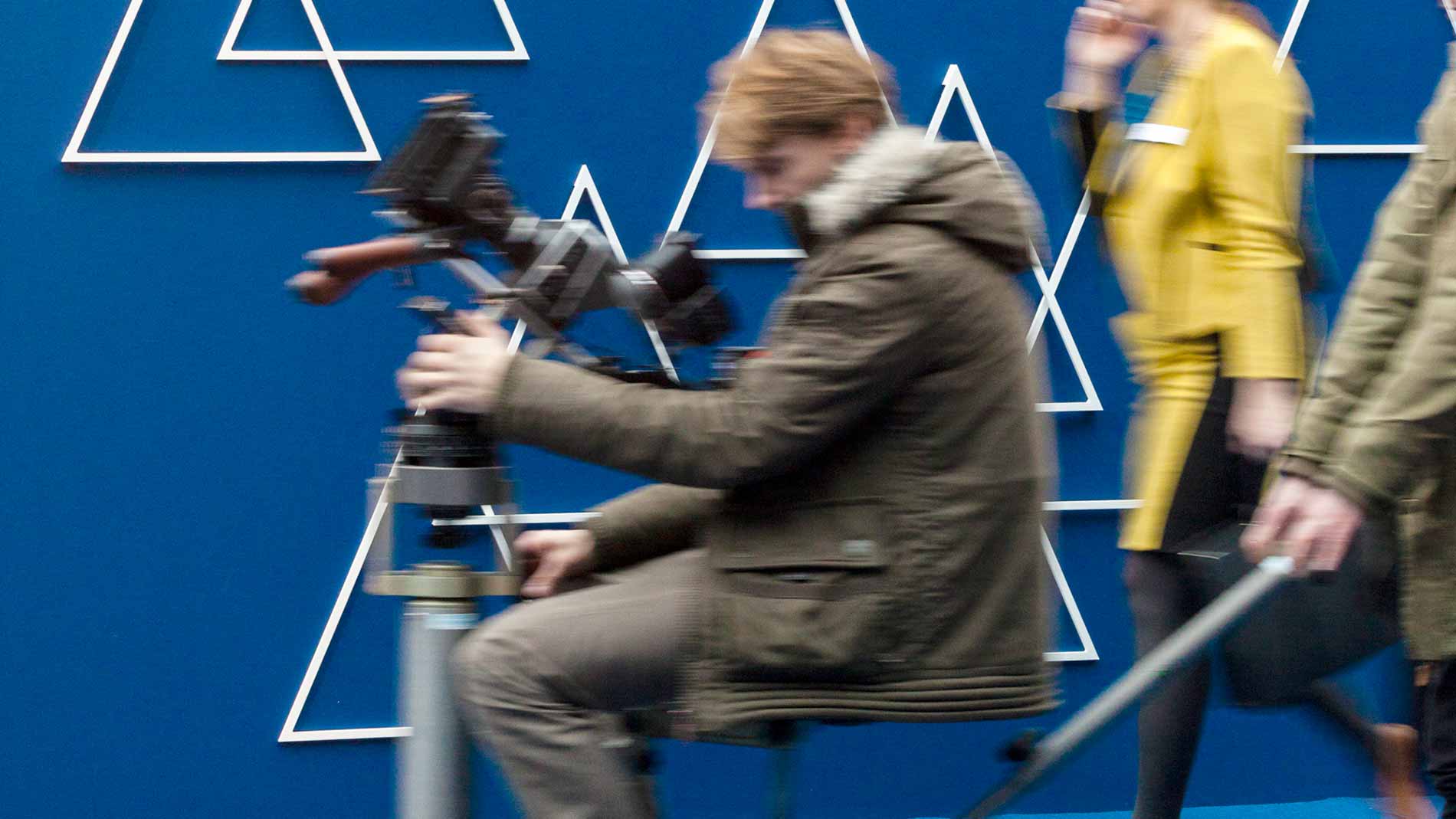 The trade fair videos are produced by our own hired TV team, which works exclusively for the Digital Services team on the trade fair grounds.
As a Messe Frankfurt exhibitor, you have the option of having inexpensive films produced during the trade fair and presented on productpilot.tv. In addition to this, the films can also be shown as part of your company profile, in the media centre of Messe Frankfurt on productpilot.com. And of course you will receive the films in file format for free use, for example to place them on your own website, social media, etc.
You already have a company or product video and would like to embed it in your company profile on the exhibition website, on productpilot.com, and in the trade fair app?
We will gladly provide you with the prices for the products on request.
Product presentation (1 minute)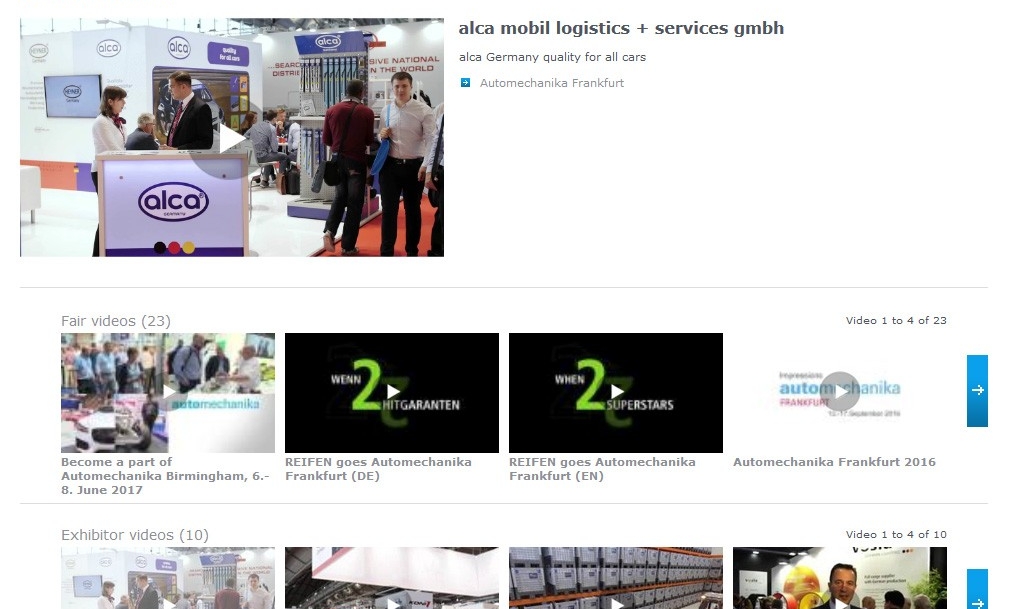 Film length up to one minute with a production time at your fair stand of approx. 30 minutes, produced for downloading in the formats WMV, MPEG and H.264. Our team films your selected products while you introduce them and place them in scene. Production is in the style of a report, coordination and approval take place at your stand.

Moderated product presentation (2.5 minutes)
Film length up to 2.5 minutes with a production time at your fair stand of approx. 60 minutes. Produced for downloading in the formats WMV, MPEG and H.264 – including moderator. The products you select will be filmed by our team while you and our presenter showcase them. Production is in the style of a report, coordination and approval take place at your stand.

Individual video production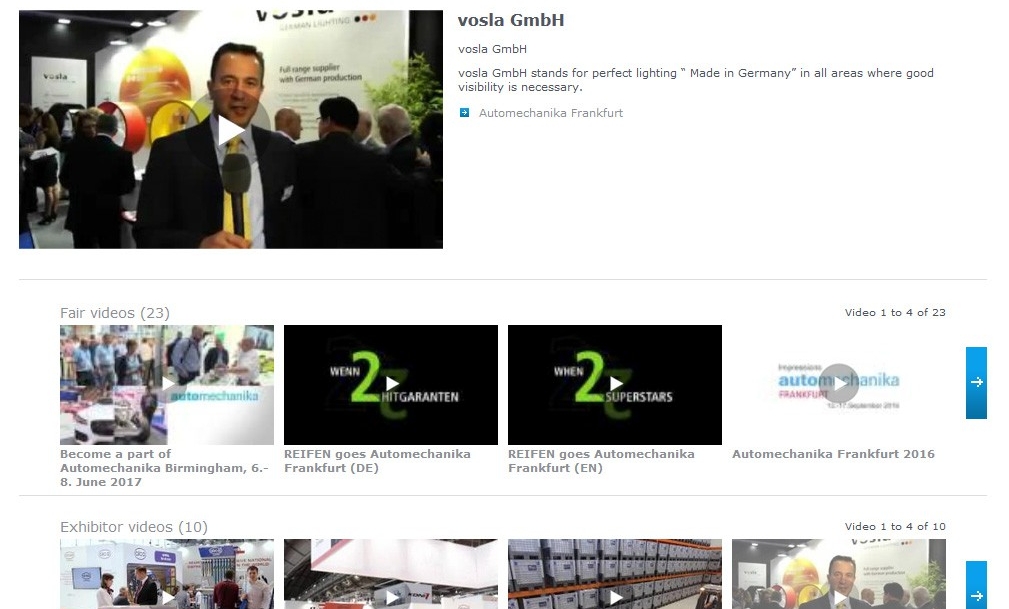 The Digital Services team makes it possible: whether it is a film report about your newest product presentation, a recording of your press conference or the live streaming of your event at the trade fair – the Digital Services team will produce it for you at the Frankfurt trade fairs, using professional TV teams and journalists. Why not add background music to the impressions of your stand or have your press conferences translated into numerous languages - after the event has taken place. Supplement your trade fair appearance with a moving documentation and book your individual video production now.

360° degree view of from your stand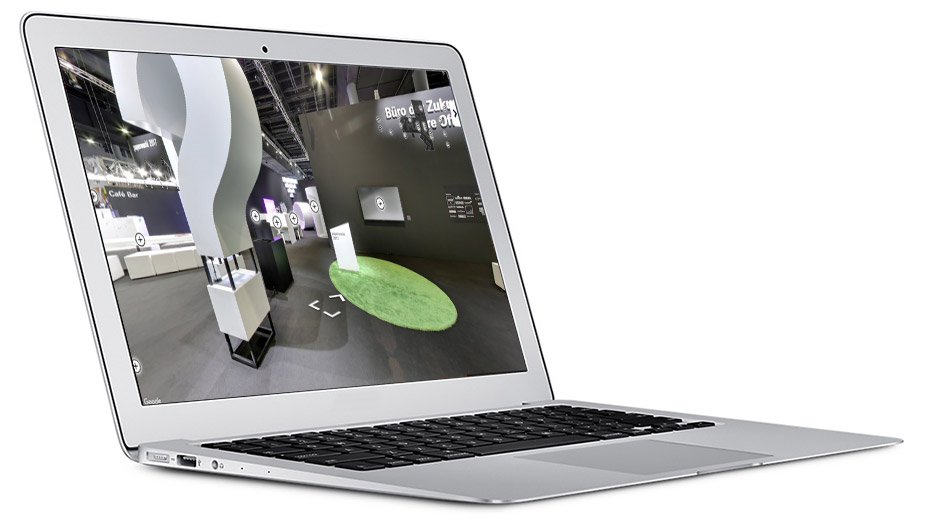 Order a comprehensive high-resolution 360° view of your trade fair stand. In addition, an exhibitor box in standard design will be integrated in the presentation.
This box can be by faded in or out by clicking on it and includes the following information: 
Company name
Trade fair information (trade fair, location, date)
Contact information (address, contact person, phone, fax, email, URL)
The 360° recording can be provided in the form of a landing page (e.g.  http://clients.nexpics.com/bdz/onair) or an i-frame.
You can therefore simply link to the recording via URL or embed it in an existing website.
The availability of this product is limited. The contract shall be effective upon acceptance by Messe Frankfurt Exhibition GmbH in the form of the order confirmation.
Please contact us with regard to the availability of this product after the end of the ordering period: service@online.messefrankfurt.com or +49 69 / 75 75 - 32 10.
productpilot.com – Present your company in the perfect way year-round across all industries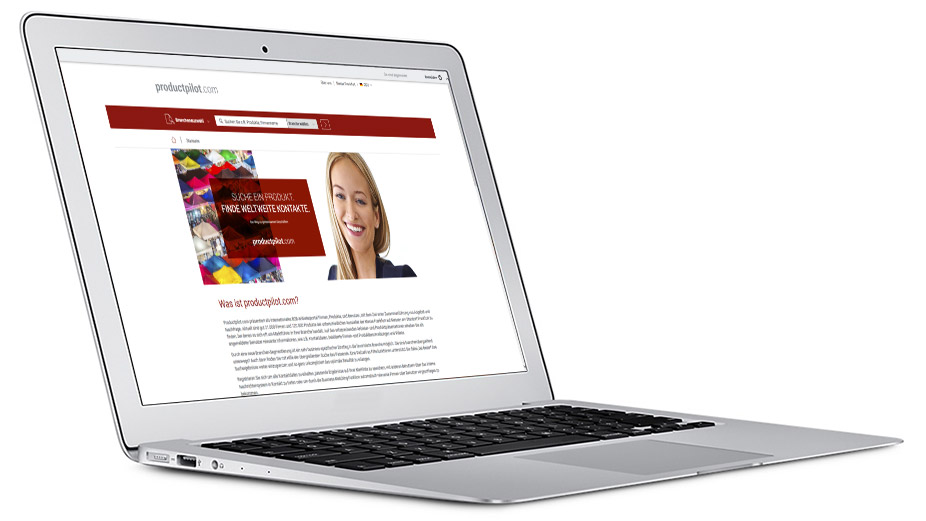 Suppliers can present their products and company worldwide and year-round on productpilot.com. Clever search features make it easier for commercial buyers to find the offers shown. Optimised contact options also make communicating with potential business partners convenient and simple.
Registration in productpilot.com is part of the Media Package. This includes the year-round company presentation and up to five product presentations. Paid for online marketing add-ons such as extended content, additional links to sites, shops or social media channels as well as downloadable materials and videos can help to further expand such an online presence.
For more information, see www.productpilot.com