Read everything about trends, products and exhibitors and your efficient advertising opportunity here.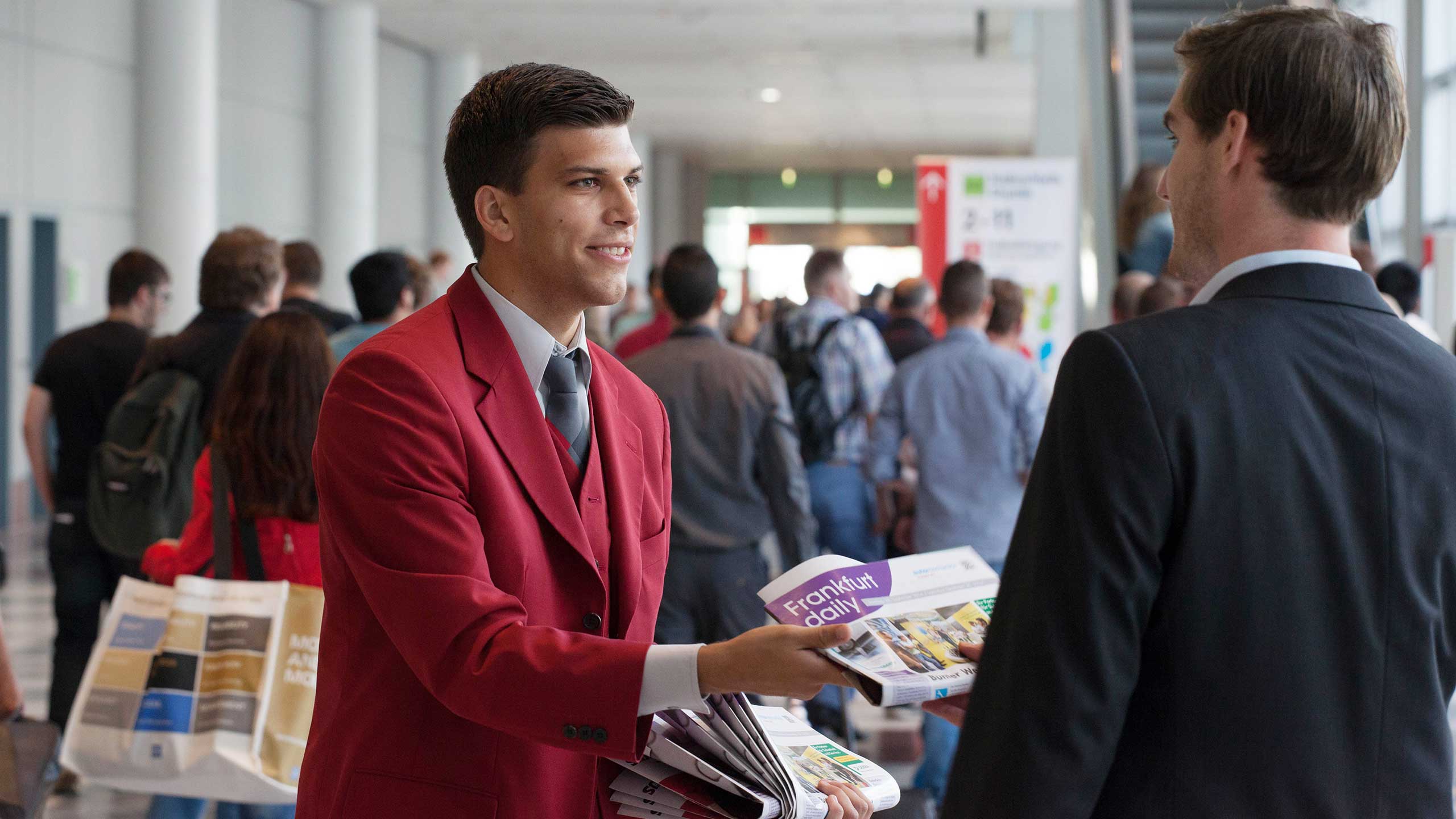 As Messe Frankfurt's publishing house, we are able to offer you a wide range of publications:
We will be happy to advise you personally - simply contact us.
Trade fair newspaper Frankfurt daily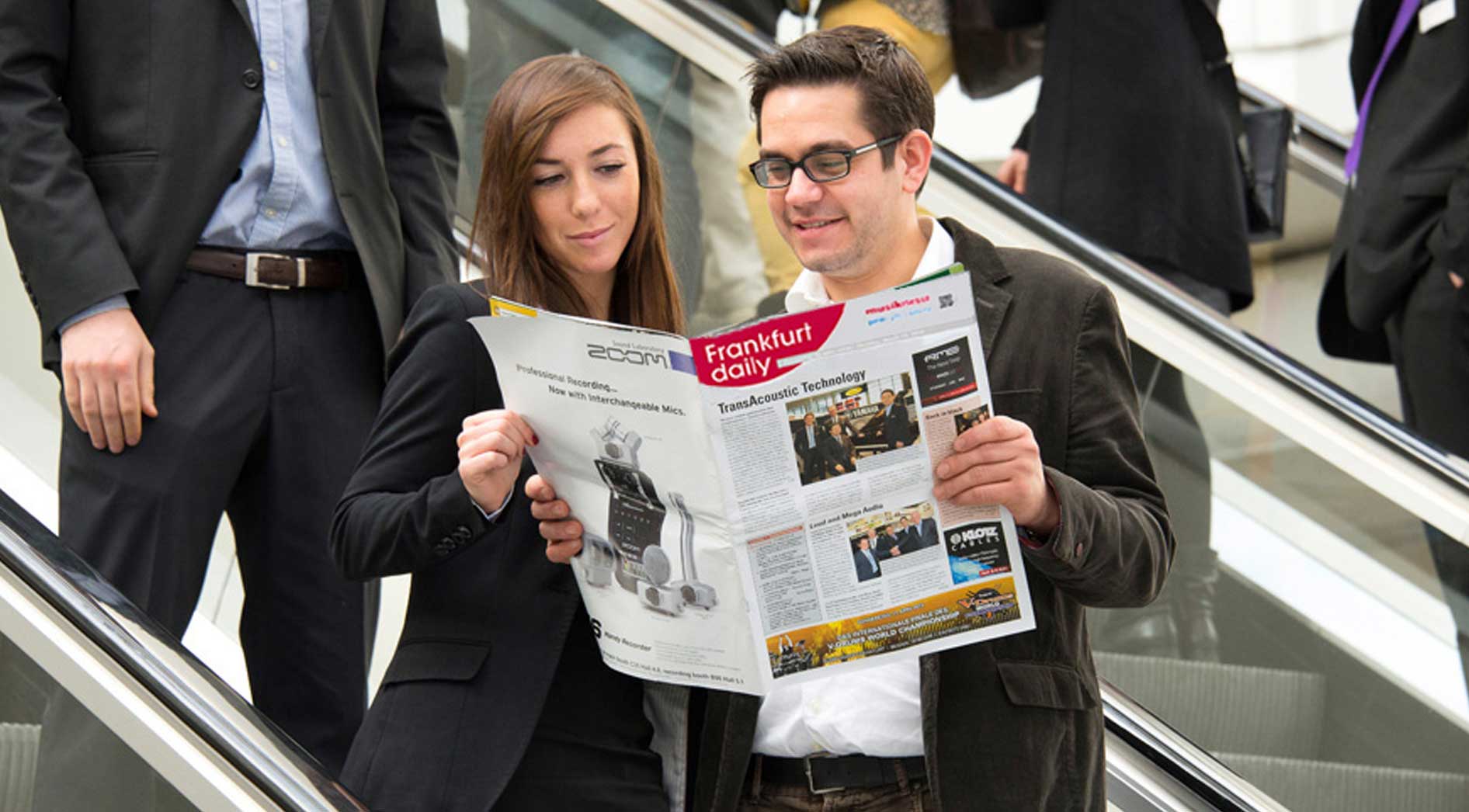 Frankfurt daily offers trade fair visitors information on new products, industry themes, trade fair highlights, trends and special events. Exhibitor lists offer an overview of all exhibitor companies. In profiles and product news, individual companies showcase their products and services for the event.
You can receive Frankfurt daily directly at the relevant event or as digital issues.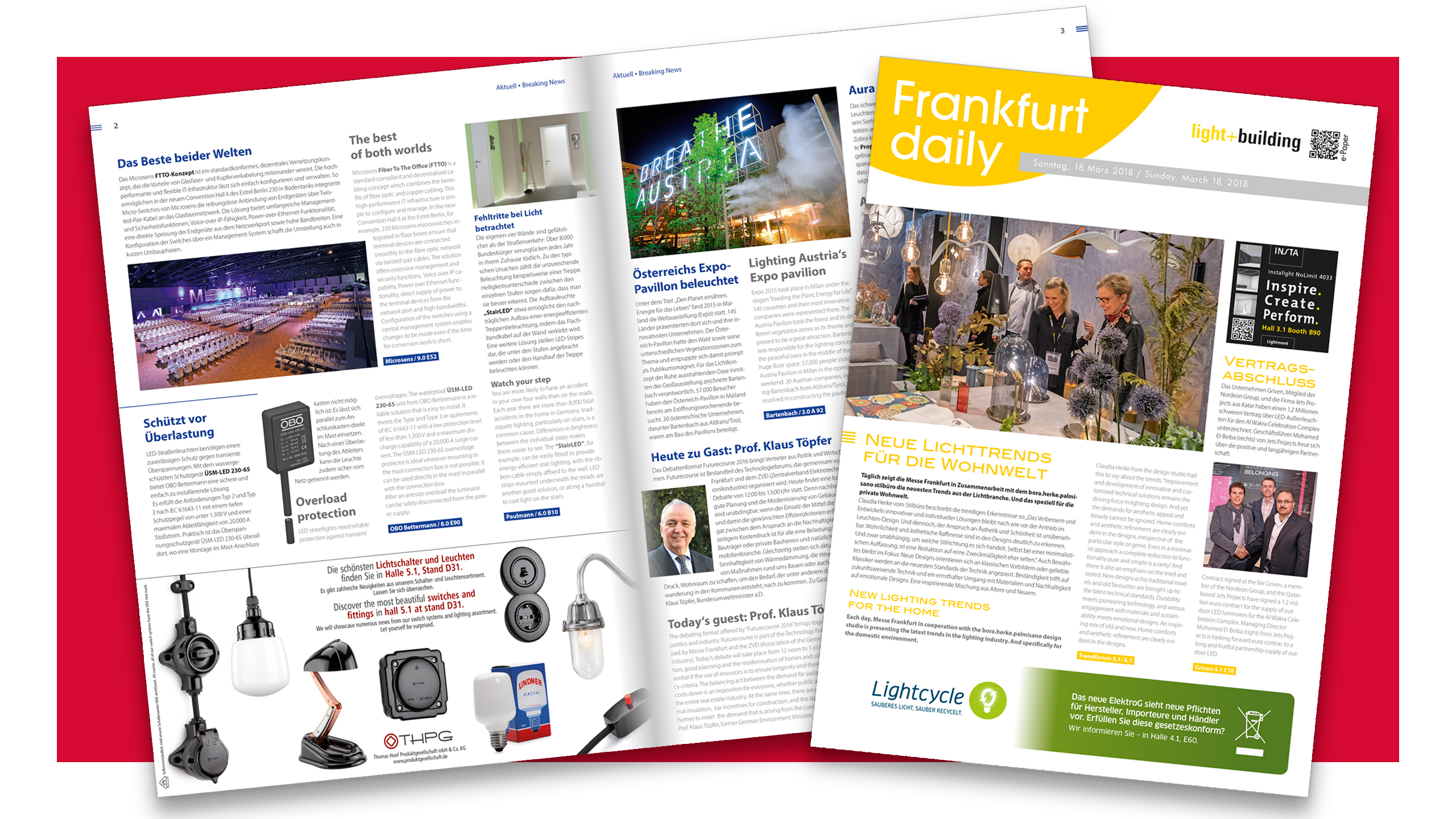 Advertisement
From a 1/4-page to a large two-page spread: Our publications offer you lots of options. Place a product or image advertisement and raise your profile at the trade fair.
Company profile
A company profile offers an attractive way to support your trade fair presentation with a half-page or full page of corporate and product images and texts.
Product news
Let readers know about your new products with a brief feature comprising a text and image. The text will be produced in a magazine layout and will appear in a thematically related part of the publication.
Media data Frankfurt daily
You can find the media data for Frankfurt daily and some sample issues here.
Additional advertising opportunities in the e-magazine Frankfurt daily
Web link
Important online and mobile presence: Supplement your advertisement with a web link to your website for a fee.
Picture gallery
An eye-catching upgrade: Supplement your advertisement with a picture gallery.
Video
Reach mobile target groups: Supplement your advertisement with a video and make sure you reach the users of mobile platforms and tablets in particular.

All exhibitors at a glance: Trade fair catalogues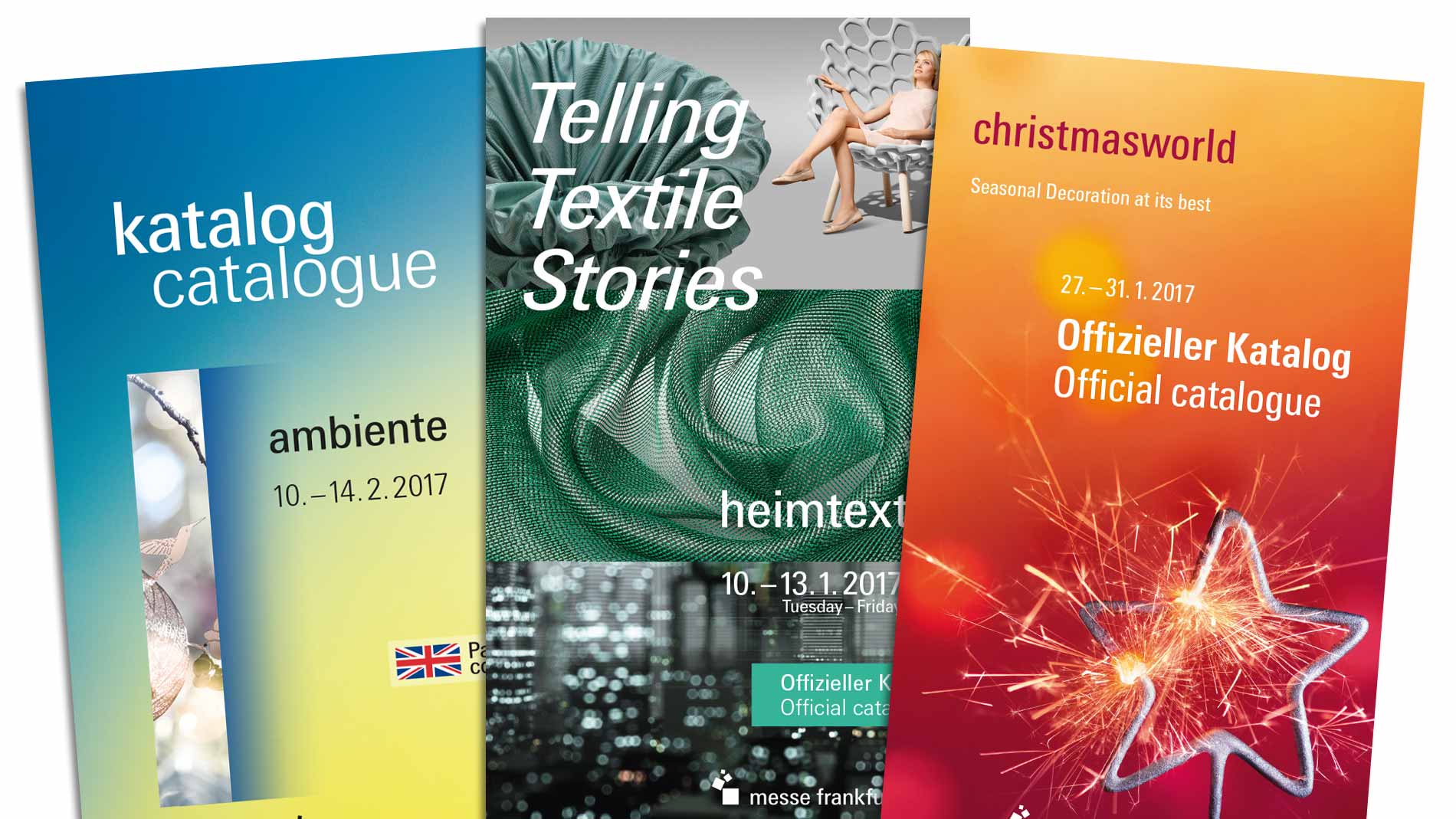 A quick overview of everyone taking part: In our official trade fair catalogues, you can find all exhibiting companies for a particular event.
You can order a printed catalogue or PDF version for download here.
We can also supply you with the catalogue in app form: Download app

Your company entry in the trade fair catalogues
The most important data on your company is already included in the catalogue media as part of the media package. By booking additional services that supplement this, you can help ensure that you stand out from the crowd.
Find out why product group bookings are particularly useful in our video. Further advertising opportunities can be found below the video.
Product groups
Provide greater insight into your range of products and services with comprehensive and eye-catching descriptions of your products and innovations.
Logo
Stand out from the crowd! Adding your company logo ensures that your advertisement will immediately stand out from text-only adverts.
QR code
Integrate a QR code in order to provide a link to your digital offerings, such as contact details, individual products on your website and an image film, for example.
Additional text
Use an additional text to inform visitors of all the key information on your company.
Links
With links, you're guaranteed to be found – your brands, your subsidiaries or even old company names. All links will also appear on the event website and in Compass.
Trademark and logo register
Book your entry in a special chapter of the catalogue: The trademark and logo register. Here you will appear with your logo, name, address and contact details, as well as your stand number.
Licences
Make sure you can be found through your brands and products: In the licence directory, you can list everything for which you have a licence. The licence can be supplemented with a logo and an additional text.

Additional digital advertising opportunities in the e-catalogue
Picture gallery
An eye-catching upgrade: Supplement your advertisement with a picture gallery.
Video
Reach mobile target groups: Supplement your advertisement with a video and make sure you reach the users of mobile platforms and tablets in particular.

Hotel and Restaurant Guide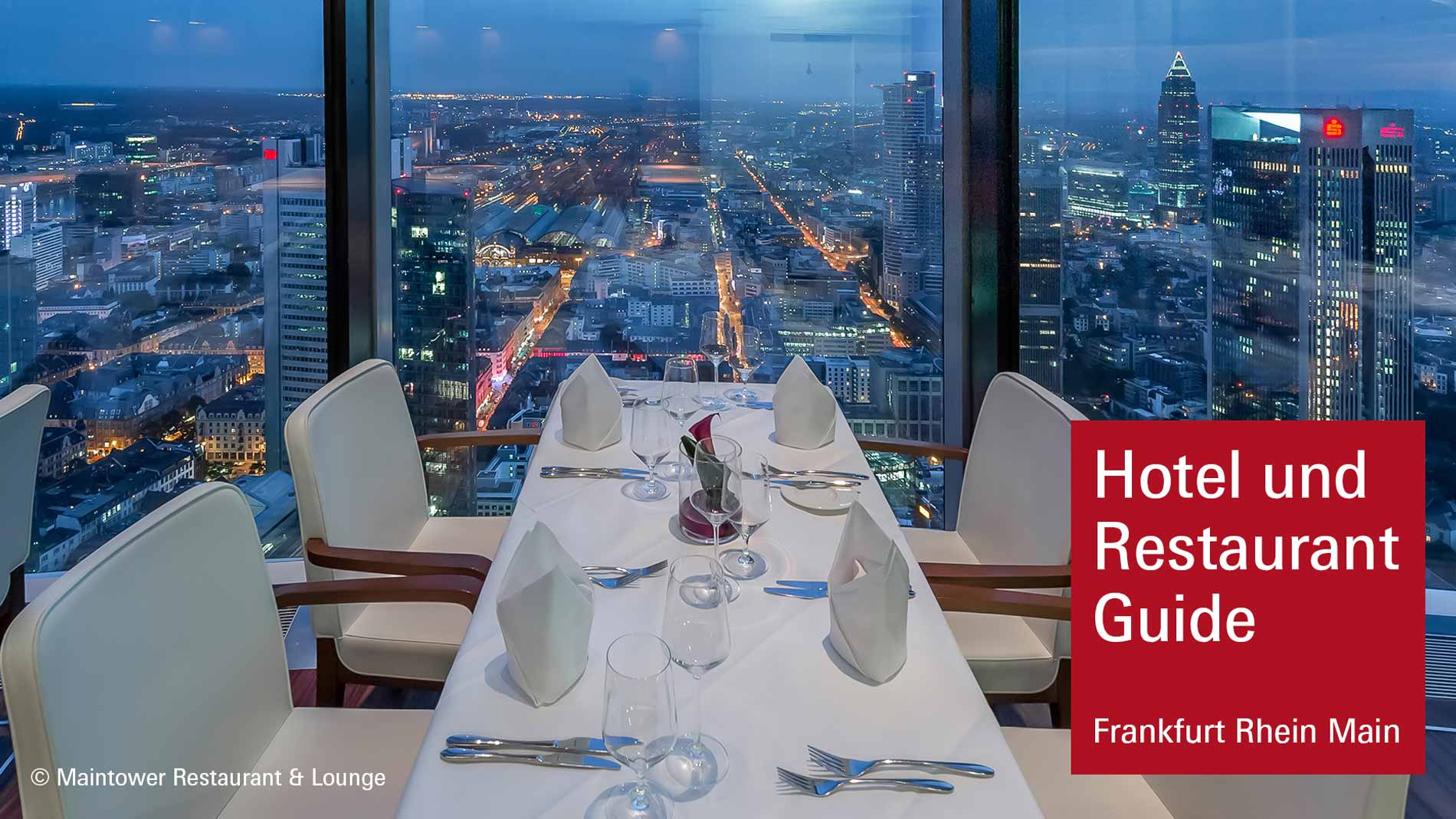 The Hotel Guide for Frankfurt and the Rhine-Main region offers you a convenient means of finding accommodations. It offers answers about the facilities and features on offer and information on booking anything from a simple guest house or B&B to inns and five-star hotels.
The Restaurant Guide provides you with a window into the tremendous culinary variety on offer in and around Frankfurt, including cocktail bars, sushi, steak houses, cider pubs, vegetarian establishments, traditional German cuisine and fine dining.

You can also find the information you are looking for digitally: We offer all this information on our website, in our blog and in the app.
Pre-print and printing services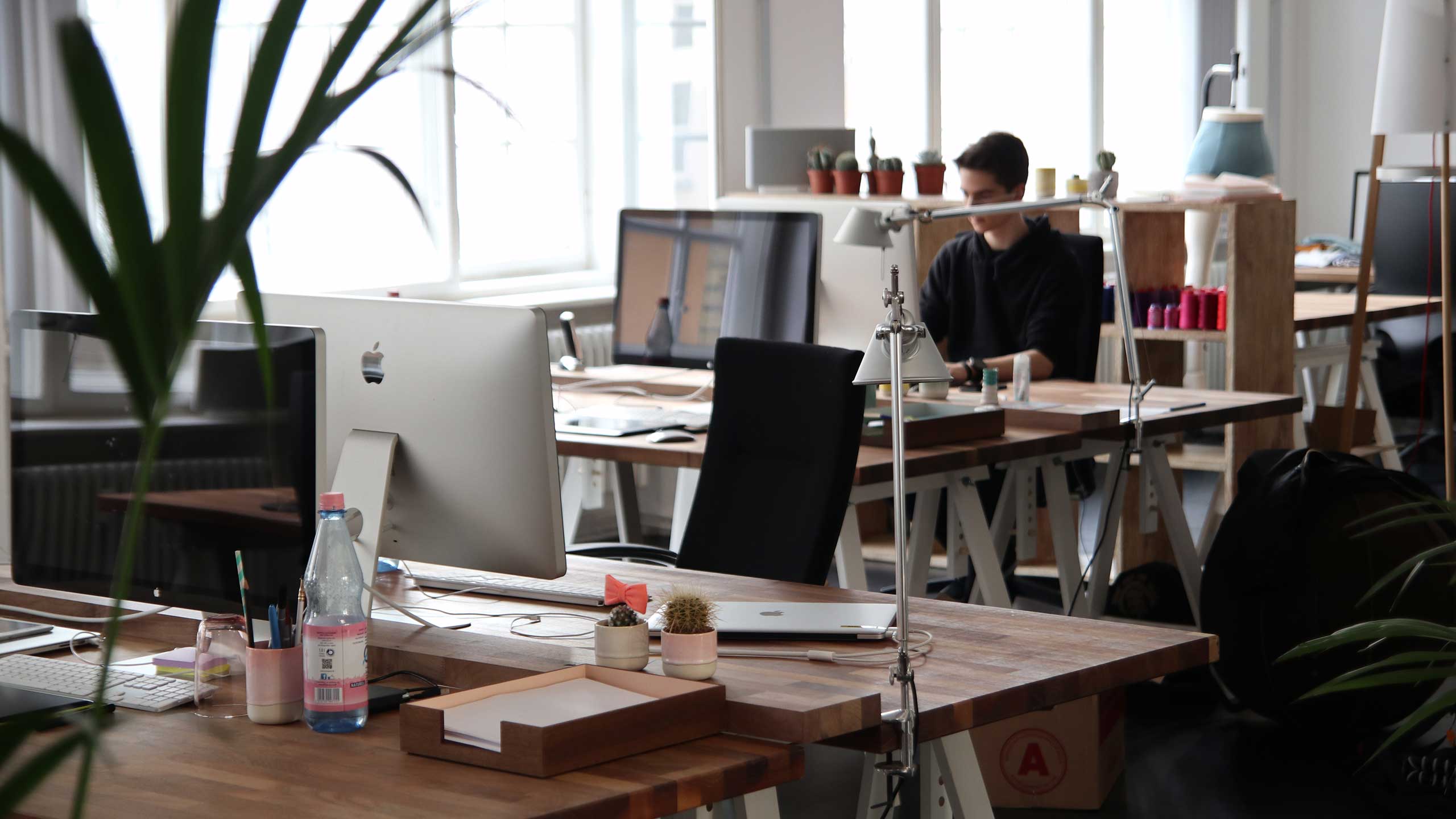 From layout to typesetting, we are at your service: Our pre-print services.
We will be happy to advise you on the full range of possibilities for layout, draft, lithography and typesetting and to provide you with a custom offer tailored to your requirements.
Professional. Reliable. Versatile: Our printing services.
Do you have something to print? So do we – quite a lot, in fact. Take advantage of our many years of experience and of the excellent conditions we can offer you as a result of our large order volumes.
Simply complete and submit the Online print request form and we will get in touch with you straight away.
Always up-to-date: Digital trade fair publications